Blog
2018 Petal It Forward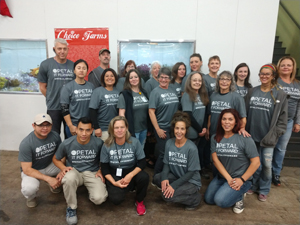 On October 24, our staff loved supporting the wonderful industry event Petal It Forward where florists nationwide randomly surprised peopleon the street with flowers in 410 cities in all 50 states, plus D.C. Lucky recipients received two bouquets — one to keep, and one to share with a friend, family member, co-worker, or even a complete stranger. There were a lot of smiles going around as the country experienced flower power.

The Fall Annual Festival was a great success
Frank Adams presents... Floral Chopped and 1 Day Profit Blast!
The 2nd annual Floral Chopped Competition on October 5th 2018 was a tremendous success. We will definitely be doing this again, check out some of the great pictures we captured that day. The weekend was full of activity and excitement as we hosted these great two events for our industry. Floral Chopped featured students from our local highschools, and the 1 day profit blast brought to us by SAF featured great industry insight from industry leaders.
Profits
Profits ... they determine success or failure in every business.
Every business owner should constantly be seeking ways to improve them. Profits can be a slippery slope, managing the cost of goods, inventory, shrink or loss all play a role in determining the profit of a business large or small.
The top seven Theories of Profit are a short list of what Profit is.
Schumpeter's Innovation Theory
Uncertainty Bearing Theory of Profit
These are all captivating articles or theories but how does it apply to you? For me it's the bottom line of the balance sheet, what is reported for taxes, the line that shareholders look at, and like every other business…there is always room for improvement.
Frank Adams is hosting Society of America Florist one day Profit Blast in October. Its schedule is filled with a who's who in the floral industry.
Derek Woodruff, AIFD, CFC, CF, PFCI of the Floral Underground kicks things off with Money Making Mechanics. Time is money and he will show us how increase efficiencies and grow the bottom line.
Derrick Myers, CPA, CFP, PFCI follows with "Treasure Hunt" finding your hidden profits. He will teach us formulas and worksheets to improve your profits and the black holes of lost profits in every business.
After lunch Tim Huckabee who has visited roughly 6000 flower shops, training florist in the art of sales will present and detail the processes that will improve your shop's customer satisfaction and lead to fatter profit margins.
To end the program speaker Crystal Vilkaitis, owner of Social Edge will show us the in's & outs of social media. How to target Facebook ads with a high ROI, and why messenger bots will be a game changer in customer communication.
So unless you just won the lottery and have a mountain of cash you haven't even counted yet, I bet you and your business could benefit by attending this one day seminar on October 7thRegisteand start improving your Profit.
Scott Isensee
General Manager
This email address is being protected from spambots. You need JavaScript enabled to view it.