Blog
Blog: What the FAQ?
---
What the FAQ?
It's August and Coronavirus (Covid-19) is still prolific.
It's August and racial inequality is still prolific.
It's August and homelessness is still prolific.
Can we skip September and October, go directly to November?
We all have more questions than we have answers. But I do have a few answers that I didn't have last
March. My Frank Adams family is going to be ok. What an amazing group of people who work together
to support the mission even during a time of crisis. They have wide shoulders and giant air-hugs that are
given freely to anyone in need. They've learned to survive!
Fortunately, Coronavirus has not knocked on our door. We have taken every possible precaution to
protect ourselves and our customers, our friends and families. Something I wasn't sure we were going
to able to do last March. Yet, here we are! We've learned how!
Life has changed forever and we must adjust accordingly. Distance learning, working from home,
staycations, social distancing were all relatively vague concepts last March, I've even learned how to
Zoom!
As for the unanswered questions, don't stop asking them! The answers will make their way to the
surface if we are patient and we listen for them. Until then, ask yourself this question: How can I do
better, be better? And then most importantly, we need to listen for the answer and learn.
Scott Isensee
General Manager
Blog: July 2020
---
July 2020
The last few months have been nothing short of surreal, the Covid-19 pandemic has changed the world as we know it. I found myself recently turning off the news, I just couldn't take it anymore, I could feel my blood pressure rising.
I was surfing the internet when I came across an article titled "The Antidote to Outrage" by Ann Latham and I thought that's what I need, an antidote.

I thought I would share it with you.

The Antidote To Outrage
"We are outraged.
"We are outraged when we see someone without a mask. Outraged when asked to wear a mask. Outraged with every headline. Outraged by every social media comment. Outraged before breakfast. After lunch. During dinner. In our dreams. It's an epidemic. And I'm convinced our outrage is more destructive than the novel coronavirus." (Read more on Forbes ...)
Obviously, I was thinking about pandemic outrage. Boy, what a difference a day can make!
Now outrage is spreading across the country in the form of violence, fires, and looting. There is outrage about the death of George Floyd. Outrage about protesters. Outrage about police treatment of protesters. Outrage about Trump's tweets. And outrage about instigators. While the stakes seem higher than ever, my "Antidote" advice is unchanged.

Start with the facts:
George Floyd died while an officer kneeled on his neck for nine minutes.
George Floyd joins a long history of black men and women who have died at the hands of the police in far greater numbers than white people and who have done nothing to bring on that harassment and violence other than being black.
People are mad. They believe things must change. For real this time, because this has been going on too long.
The protests began peacefully in Minneapolis and have spread across the country and overseas.
Most of the protesters have been peaceful, showing solidarity with George Floyd and demanding an end to police brutality.
Some of the protesters have become violent as their anger has apparently burst its seams.
Instigators seem to have joined the protests to incite and maximize the violence, looting, fires, and destruction.
Many ordinary citizens have turned out in the mornings to help clean up and support the small business owners whose property has been damaged or destroyed.
Our President's response has been tweets. Tweets which most people would agree have encouraged violence and shown no sympathy for George Floyd or the claims of racial injustice.
Some police forces have come dressed to fight and appear quick to do so. Others have come without shields and have marched and kneeled alongside protesters.
Some people say the instigators are left wing and others say they are right wing. Few believe they care about George Floyd. Most believe their motivation is to destabilize our country and increase our divisions.
Minneapolis reacted quickly in firing the four police officers involved, but waited several days before arresting and charging one with murder. The other three, who were seen in videos doing nothing to help George when he repeatedly said he could not breathe, have not been arrested. Many people think this shows bad faith and a lack of understanding of the problem by the Minneapolis police department.

Are you questioning my objectivity and facts? If so, good for you. You should. Try writing the facts yourself. It is very difficult to do if you hold any opinions about the behavior of anyone involved.
More important, if you question my facts, are you driven to dig deeper and get better information? Or do you simply broadcast your own contrary conclusions and extend your outrage to include me?
We don't know who is really responsible for the violence. How could we? Not yet, anyway. We don't know the motivation of instigators. We don't know how many heartfelt protesters remained peaceful and how many turned violent. We don't even know for sure if there is any good reason why that cop kept his knee on George's neck for nine minutes until he died.
The ability to remain calm and dig to find the facts, before you start to react, before you spread false fuel for outrage on social media, before you rage among friends and colleagues, and even before you draw conclusions about an employee, is a skill worth practicing. It will make you a better leader, a better supervisor, a better citizen, a better parent, a healthier person, and a better person.

Ann Latham
603-784-5727
www.UncommonClarity.com
Blog: V-day ... the countdown is on!
V-day…the countdown is on!
From the desk of Angie Lopez
January 2019
It's a magical, overwhelming, and exciting month for us at Frank Adams. Valentines day is kicking into FULL gear! The buying departments in both supplies and fresh have been hustling to get availabilities and price lists from our vendors and farms since the beginning of December. Then we determine what gas/freight costs will be to get products from around the world landed here in Portland. It's spreadsheets galore as we enter the numbers and let excel do the rest. Offers have been sent out, calendars have been set, and product is starting to be secured.
This time of year, team work is crucial. The decisions being made are a beautiful yet unnerving mix of educated guessing and gut feelings sprinkled with experience. What product to buy, where to buy it from, and how much to buy. What day of the week the holiday lands on. When will our customers want to start receiving their flowers? What day do we ship from farm to ensure the freshest product is available? And one of the biggest…..are we competitive with our neighboring competition???
These things don't even begin to account for other uncontrollable variables such as weather at the farms in both South America and California which affect last minute availability, flight delays out of South America which could affect our departing trucks, said trucks traveling safely from Miami to Portland….
I'm quite certain everything above seems quite dismal and stressful but it's actually what we live for. The unknown, the hustle, the constantly changing variables. There's excitement in seeing semi-trucks loaded with our flowers come in, become organized, and miraculously fit Jenga style into our coolers! One day later, that same cooler starts to empty as orders are pulled for the following day's deliveries and pick-ups. All hands on deck and everyone on point! We are a well-oiled machine that thrives on 2 months of planning for a 1.5 week window of incoming and outgoing perishable flowers.
Blog: We Speak Color!
---
We Speak Color!
Scott Isensee, General Manager Frank Adams Wholesale Florist
Spring 2019
We Speak Color!
That's our motto.
That's our battle cry.
#WeSpeakColor
We are fortunate that in our industry, our jobs find us constantly surrounded by nature's colors. Distinctive and unique, each flower offers up its singular beauty. But It can be a challenge to understand the perception of color as it differs from person to person.
2019 Pantone Color of the Year: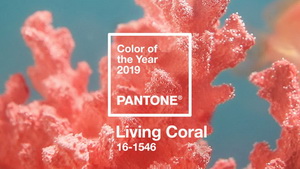 "Living Coral"
Pantone says it, "embraces us with warmth and nourishment to provide comfort and buoyance in our continually shifting environment." In an Associated Press report, Pantone Vice President Laurie Pressman goes on to say," With everything that's going on today, we're looking for those humanizing qualities because we're seeing online life dehumanizing a lot of things."
But how is the color of the year chosen?
The yearly quest begins in the Spring. According to Ad Age, the team spends the summer and fall analyzing fashion shows, street art and social media.
The New York Times reports that they collect "proof points"-examples of colors they see trending across the art and design worlds. They gradually narrow the selection down until they come to a final decision.
"Influences may also stem from new technologies, materials, textures, and effects that impact color, relevant social media platforms and even upcoming sporting events that capture worldwide attention," Pantone said.
Living Coral is such a happy color. In the floral world we are lucky that nature offers it in a wide range of hues from light to dark and so many different floral varieties.
There in lies the challenge…
As a wholesaler we unravel and decipher. Is it coral or salmon? Dark peach or pinky peach? Nearly everyone sees it differently. Here are a few examples of rose varieties that are coral:
Amsterdam - Very popular
Imagination - Just a shade lighter than Amsterdam
Coral Reef - A crowd pleasing new variety
Sweet Life - Pink and peachy undertones
You can see all these varieties and their possibilities in this IFD video:
And that's just the beginning! Japanese Sweet Peas and Ranunculus are some of the hottest must haves for weddings.
Don't forget we are in Dahlia country! Swan Island Dahlias catalog is like a "candy store" of varieties and colors. Pictures in catalogs and online are an important tool in deciding the perfect shade or color to meet your needs. However, keep in mind that nature has its own way of shaping what each flower looks like. Growing conditions, farms and weather vary as do the end results.
So prepare to delight and amaze your clients and brides this year with this amazing and wonderful color.
Get your "Happy On" with Living Coral.
(View PDF of Article)
Blog: From the desk of Jenny Larson, Supply Buyer& Manager
---
December 2018

From the desk of Jenny Larson, Supply Buyer& Manager
So in the late 80's, I, like many, discovered and loved the work of artist Keith Haring—raw, bold, current-his work connected me to the world outside of Wheeling, WV. My mom, armed with an 800-number phonebook found a poster shop in Manhattan that sold his work, as nothing even close could be found at the Ohio Valley Mall. She found a large poster that she knew I would love and ordered it. The sales guy was more than happy to complete the sale and even giftwrap and then my mom said this,
I need this shipped to West Virginia.
Oh ma'am we don't ship-you'll have to come in and pick it up
But I live in West Virginia…
Is that in Brooklyn ma'am-can you take the #whatever and then crossover on the #whatever to get to the subway to get to Manhattan?
No, it's a different state-in between Ohio and Pennsylvania-just up from Virginia…
I've never been out of the City lady, but we don't ship-you have to pick it up."
Never out of the city, have you ever had homemade Christmas cookies?
Homemade Christmas cookies? Not sure what you mean, there's a bodega two doors down-they have cookies-not sure who makes them…I know my mom never made a cookie…"
If I send you some of my homemade Christmas cookies will you send me the poster?
I'll walk it to the post office myself.

And so she sent him a tin filled with cookies that she made herself. He got them and I got an incredible Christmas present.
I think about this story often for several reasons. It's hard to remember a time that everyone didn't ship everything everywhere—I'm sure as this transaction occurred Silicon Valley was forging the trail to e-commerce as we know it today. Look at how far we have come in a pretty short period of time. I am not anti-technology whatsoever but I love the human aspect of this story-I hope as we rely even more on computers that we do not relinquish the human experience completely.
I also love the resolve from this tale. My entire working career has involved customer service and even though my mom was the customer, this story taught me to think outside the box. Often, customer service can be a problem-solving mission-how can you get what your customer needs if there is an issue with shipping or availability or something is time sensitive? I don't do well with a flat out "no"-not without exploring every avenue. And because online shopping is such a fierce competitor, now more than ever customer service—the human experience is more important than ever. I do appreciate the ease of shopping online but I also love walking through doors into the space of someone's life work and passion—I appreciate a well done site but I love the smell of a wood sculpture and I have to touch a throw rug—while online shopping is about me-a brick and mortar experience is about both buyer and seller--a connection.
My job allows me to travel a few times a year to shop for the Supply department. I go through a ton of showrooms and touch everything. I think about my customers as I am sifting through trends, colors, textures and lines.
I wonder if they will be surprised at how light something is like I was-or how amazing the color combo on a ceramic is…again, a connection.
Happy Holidays and Happy Shopping to all this season. I hope you find what you looking for and if you are lucky, I hope you make a connection-with cookies or without.