Meet our Staff
This is our team

Scott Issense
Manager
(503) 286-8990 *
This email address is being protected from spambots. You need JavaScript enabled to view it.
---
When you love what you do…it's not work. I love the Northwest, the climate, the people, and the lifestyle. We have the greatest group of people assembled here to help your business grow, So call or stop by and let the Adams Family treat you right! Oh and my favorite botanical... Humulus Iupulus (Hops)

Angie Lopez
Cutflower / Buyer
(503) 445-1004 *
This email address is being protected from spambots. You need JavaScript enabled to view it.
---
Established in 1980; in the floral industry since 1996 and loving every minute. I recently moved from a flat and landlocked region of the Midwest to the glorious beauty of Oregon! I'm convinced I won't need a vacation for at least 15 years as my life now is very vacation-esq. I'm all outdoors in my spare time...hiking, camping, or lazing by a river. Oh & eating too! the restaruants here are out of control in the best way possible! My favorite flower... peonies! No wait it's Lilac... but no, Ranunculus. i love them all!!
Jenny Larson
Supply Manager / Buyer
(503) 445-1003 *
This email address is being protected from spambots. You need JavaScript enabled to view it.
---
As a supply buyer and manager I do a lot of problem solving—making sure we have what we need on our shelves and procuring what we do not. I'm fortunate to travel to Gift Shows –it's an amazing experience every time and I am always humbled and rejuvenated with each trip. I wish everyone had the opportunity to go. While I'm there I try to be the eyes of our customers and return with the latest and greatest our industry has to offer. I love that our industry is constantly evolving-I love when our customers share pictures of their work-it is so gratifying to see the products we sell in action. Being a floral supply buyer is challenging but I am always up for a challenge, so let me know what you are looking for. My favorite flowers are tulips—I always smile when I see a butter yellow one or white and green parrot tulip with a hint of coral. I've also never known a container that wasn't made better by having a bunch of tulips in it.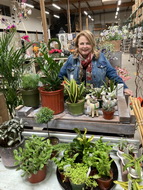 Kim Fitzgerald
Supply Asst. Manager
(503) 286-8990 ext 329 *
This email address is being protected from spambots. You need JavaScript enabled to view it.
---
I started at Frank Adams August of 2014 as the cashier. I really love the customer interaction of that position. I met many wonderful folks. I left for greener grass and found out that the grass is not greener. I returned to Frank Adams as our supply buyers assistant. What do I love about this job? Just about everything. There are challenges and successes every day. I still get to work closely with our wonderful customers. And who does not want to work around pretty things and amazing people.
My favorite flower…….. has to be Sweet Peas, the scent and delicacy always make me smile. They remind me of my grandparents, they grew them every year and would always send me home with a bunch.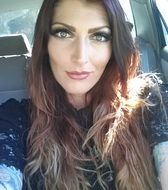 Rori Schlaefli
Cooler Manager
(503) 286-8990 *
This email address is being protected from spambots. You need JavaScript enabled to view it.
---
My name is Rori. I've been here at Frank Adams for a year to the day almost. I am a true oregonian because I love roses so I must be in the City of Roses for a reason! They are my favorite, I love every color every shape every style! I also love protea's they give this little shop of horrors vibe! As far as hobbies I'll try anything twice! I love live concerts, plays, bike riding, walking, photography, painting, drawing, poetry, and playing games like taboo! That's my all time favorite if you wanna play let me know!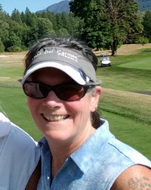 Tammie Mullikin
Wedding Specialist
(503) 445-1022 *
This email address is being protected from spambots. You need JavaScript enabled to view it.
---
With many years spent pushing posies', I can definitely say I know my way around a cooler. However I am exposed to new varieties and learning all the time. I have an eye for color and style coordination so my peers have dubbed me the wedding/event expert. That suites me fine because I enjoy compiling specific flower theme's and palate's for orders. When I'm not frolicking in petals you can find me camping, kayaking & gardening with my honey and being a mom to my cats. My favorite flower? Starting in the A's Anemone…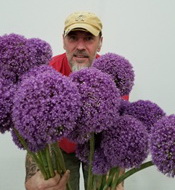 Billy Brown
Cutflower Specialist
(503) 445-1003 *
This email address is being protected from spambots. You need JavaScript enabled to view it.
---
I have been in the wholesale floral industry for over 25 years, from Oregon to Texas. Its hard work but I love it, and the people I get to interact with. In my off time I like to take long walks on the beach and watch the sunset….aaawwwww…. Allium gigantem seriously, look at these!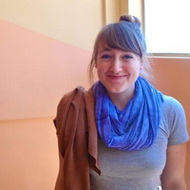 Gwen
Cutflower Specialist
(503) 286-8990 ext. 322 *
---
Born on a flower farm, I like to say horticulture is in my blood. No matter where life takes me, my love & knowledge of the botanical world grows. With a background in design, I love taking concepts and turning them into a reality. From large scale installations to tablescapes I embrace process of planning all the way through to execution. In my free time I hike in the forest with my great dane Horus. My favorite flower is Acanthus mollis. Looking forward to meeting you!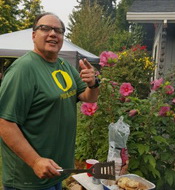 Jeff Schramm
Cutflower Specialist
(503) 445-1007 *
This email address is being protected from spambots. You need JavaScript enabled to view it.
---
Over the 40+ years in the wholesale florist business I have seen lots of changes. The Portland Flower Market is a unique place to work and shop. I enjoy golfing, fishing and all sporting events, especially those Cowboys! It seems the flowers have been a part of my whole life and I think my favorite is King Protea, because it's good to be a king!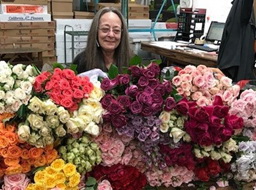 Lisa Dewald
Cutflower Specialist
(503) 445-1026 *
This email address is being protected from spambots. You need JavaScript enabled to view it.
---
With over 35 years of experience in the floral industry, it's clear I enjoy what I do. Outstanding service and communication are always my priority and essential for a good relationship with my customers. Let me be your personal shopper or simply guide you through Frank Adams 'Flowers On-Line' and 'Farm Direct' programs. I'm here to make your job easier and more productive. I enjoy puttering in the garden, love animals and have three dogs that mean the world to me. ROSES! Lots and lots of Roses!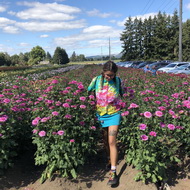 Leah Beltz
Cutflower Processing
(503) 286-8990
---
I am a flower child in every way. You'll find me with flowers in my hair, shoes and just about anywhere I can stick one. Honestly my spirit animal is a wild flower so working in this business really jives my soul. It's hard to choose just one favorite flower, I swear it changes daily, whichever catches my eye in the moment. I'm a sucker for tropicals though, especially king protea because they just warm my heart. Otherwise, lavender is my girl. She smells delightful, calms the energy around her and has so many delightful healing properties. I'm lucky to be able to work with flowers from growing and designing with them to creating remedies from them. If I'm not at work I'm barefoot in the grass, got dirt under my nails and blowing where the wind takes me.
Kristin Mahin
Cutflower Specialist
(503) 286-8990
---
Kristin Mahin is one of the fantastic Floral Processors here at Frank Adams, with Laser accuracy and cat like reflexes. Her love and knowledge of flowers has really shined and shown her to be a great Asset here. Kristin being a Portland native has a great love of outdoors here in the Pacific Northwest and spending time with her son. Dahlias are one of her favorite flowers and she has some great conversations with them. She can often be heard talking about her favorite recipes and planning another DIY project.
Laurie James
Cutflower Specialist
*
---
Flowers, Flowers and more flowers! I love working with flowers whether it is here at Frank Adams or at home in my garden, Flowers bring me joy. I've been in the flower industry for over 20 years in one way or another. I'm so happy to be part of the Frank Adams team.
Sarah Fuller
Director of Fun
(503) 286-7736 *
This email address is being protected from spambots. You need JavaScript enabled to view it.
---
With over 20 years of floral and event planning experience, I am always creating; a floral arrangement, a tableau, an experience. New to the Frank Adams family, I now have the opportunity to learn the 'other side' of the industry. I have found it to be very interesting. Non-working hours are spent letterboxing, hiking, and reading. My greatest joy is traveling – anywhere and everywhere. Favorite Flower? Who doesn't love Tulips!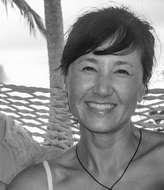 Jung Houch
Cutflower Selector
(503) 286-8990
---
Thirty one years in the floral business must mean I love all things floral. My husband and I started the largest outdoor cut flower operation, Accent Gardens, in Boulder Colorado. From there we expanded into selling to five wholesale markets, farmers markets, and wedding and floral designing. After a short time away from the flower industry and raising two amazing children, I am now the founder and co-owner of Pacific Garland. Frank Adams has allowed me to meet customers and introduce premium garland and wreaths. Tuberose has my heart.
George
Processing
---

Paty Contreras
Processing
---
Love love flowers. I have been in the flower industry for over 6 years. Working with flowers is a passion to my family and working at Frank Adams has brought me closer to what I love...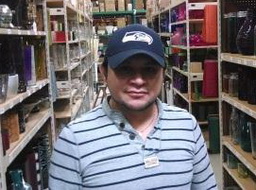 Jorge Osorio
Supply Expert
(503) 286-8990
---
Hola! My name is Jorge I love to travel, dance, and enjoy life every day! You can often find me in the warehouse cutting flowers and cracking jokes with my coworkers. I was born in southern Mexico where a great amount of my family still lives. The beaches there are the best in the world in my opinion. When I am not at Frank Adams, I also work as a Quinceanera dance teacher, as well salsa, mambo, meringue, and other dances as well! I think my favorite flower is orchids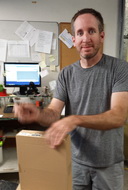 Darren Anderson
Supply Expert
(503) 286-8990 *
This email address is being protected from spambots. You need JavaScript enabled to view it.
---
Well hello! My name is Darren. Born and raised in the sweltering heat of Southern Arizona (GO WILDCATS) I found myself craving somewhere new. So picked up and moved to Portland almost 4 years ago and simply love it! I love the outdoors, hiking, camping, mountain biking, and kayaking. My favorite flower would have to be a saguaro cactus blossom. Just still part of the Arizonian in me, that and the craving for real Mexican food any suggestions…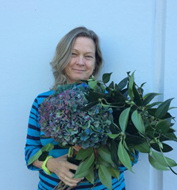 Michelle Travens
Supply Expert
(503) 286-8990
---
Hello! I work in Supplies and as cashier and I love my job and my co-workers! I moved to Portland in 2015 and am enjoying it so much!! In my free time I love to read, work out, and explore Portland. I am a proud mom of two amazing young men. I'm crazy about travel and photography, I do our instagram page, check it out! I am enthralled by all flowers but my two favorites are camellias and dahlias.

Linda Bill
Merchandising / Supply Expert
(503) 286-8990 *
This email address is being protected from spambots. You need JavaScript enabled to view it.
---
I have been the floral business for 30years and worked in retail as well as wholesale. I have degree in horticultural and floral design. I grew up in Wisconsin but moved here 30 years ago after a visit the Pacific Northwest and fell in love with the mountains and everything it has to offer. I have been married nearly 30 years and have a lovely daughter. I enjoy gardening, hiking, interior design and shopping. My favorite flower is the Sweet William dianthus
Phyllis Walker
Merchandising / Supply Expert
(503) 286-8990 *
This email address is being protected from spambots. You need JavaScript enabled to view it.
---
I was born & raised in the Pacific Northwest. I have four Children & six Grandchildren. I absolutely love to travel! I am very fortunate to have a job I love and get excited about every day. The Calla Lily is my most favorite flower.
Chris
Receiving
(503) 286-8990 *
---
I am Chris, a Portland OG, and after a 20 year hiatus in beautiful northwest Montana, I returned to the Pacific Northwest on the wings of change. I enjoy the culture of weird, the amazing food, and the ocean. I just celebrated 22 years with my wonderful bride, and we love to spend time at the river with our dogs.
Denice Ivy
Accounting / Office Manager
(503) 445-1008 *
This email address is being protected from spambots. You need JavaScript enabled to view it.
---
I'm a recent transplant to Portland and fortunate enough to have become a part of the Frank Adams Family. I started as a flower processor and have advanced my way to lead cashier. A position I adore. My coworkers are so caring and took me in with open arms; the customers are amazing as well! I am a mother of two awesome children and I am excited to be living in and exploring all the PNW has to offer. In my free time I enjoy reading and hanging out with my family. My favorite flowers are Antique roses.